Profile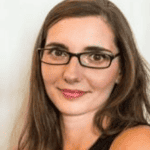 Viktoria Mileva
About Me:

I have a partner who is also in Psychology (makes for enteraining dinner-time chats!). We have two wonderful kids and have been plant-based for a year (me more than them). I also coach kid's football/soccer, love playing video games, and travelling to new places and to visit family.

Read more

The games I play are mostly RPGs but also some strategy, shooters, etc. I even play Fortnite, Minecraft, and others with my kids! It's a great way to spend time together, and don't let anyone tell you that screen-time can't be positive or collaborative! They have obviously never built an 'axolotl fountain' in minecraft. 🙂

I also like to write fiction, but haven't done it in a while. I mostly write academic things now-adays, which doesn't have a huge amount of creativity involved.

I also love a good fancy-dress party (check out my pic – 80s theme)!

My Work:

I am a lecturer in Psychology (personality and intelligence stuff!) at the University of Stirling. My previous research has involved how we judge people's faces for social status, and how we learn to recognise people when we meet them. Currently I'm interested in people's climate-change anxiety!

Read more

I really want to find out how worried people are, of all ages and at all stages, about climate change. Does that change depending on someone's personality? If I'm always worried about lots of other things, does that mean I'll be more worried about climate change too?

Can climate change become TOO overwhelming and make people just stop worrying? What about people who feel they can make a positive change? This is brand-new work for me but I really want to hear from students of all ages about their climate-change anxiety and worry.

My Typical Day:

My morning consists of waking up at about 7:30ish. I usually skip breakfast (don't worry I make up for it with a massive early lunch/brunch!) and first my partner and I drop our kids off to school and then head in to work. A lot of the time I have loads of teaching to do (sometimes up to 6-8hrs a day)! I love spending time chatting and engaging with my students – especially the really keen ones who ask me tough questions! It keeps life challenging!

When I get home I make a quick dinner and then it's usually extracurricular time for the kids! Football, drama, swimming, etc, almost every day of the week. Once they are in bed, I cozy up with my PS5 controller and play some video games, or watch some TV.

What I'd do with the prize money:

I'd ask the Student's Union to help me decide on how to spend it – with the help of societies specifically related to STEM. I would definitely give some of the money to the Psychology Society as they have weekly meetings and do loads of fun activities/crafts, like showcasing expressive arts therapy. All of these activities need resources so it would help to fund! I'd also love to share some money with the Green and Blue space in the Uni which is a sustainability space and they could reach out and tell people all about their work!

My CV

Education:

I went to school in Canada, and switched to a different school in a different province halfway through highschool (that was tough – both for finding friends AND schoolwork). I went to university for biology and really enjoyed it – I learned a lot about animals and plants and even got to do dissections on stuff like sea urchins and dogfish sharks!

I then did my master's in animal behaviour and endocrinology (study of hormones) in a Psychology department. My job was to stress fish out in their tanks (see one of the photos) and see if they would lay smaller eggs. It was kind of mean and I didn't really like doing it.

That's where I first starting becoming interested in human behaviour. Why had no-one ever told me how interesting humans could be?? I realised that I could simply ask questions (of people) instead of dissecting or stressing things out to find out answers, and from then on my mind was made up – I wanted to work with humans. I still love animals though and don't regret doing biology at all! I think it gives me a unique perspective about psychology.

Qualifications:

In Canada we don't have standardised testing (I know.. I'm lucky!) – so I did pretty well in highschool.. graduated with an 83% overall if I remember correctly. Then I did my Masters (MSc) and then a doctorate (PhD) and then a post-doctorate… and now I'm a lecturer. I hope that makes me qualified to do what I do!

Work History:

I worked at a movie theatre selling tickets and sweeping popcorn from under seats when I was in highschool – it gave me some pocket money which was great.

I also worked in a shoe shop selling people Birkenstocks and Clarks – during a time in my life when I was particularly down!

Now I mostly volunteer – football coach, fundraising committee for the primary school my kids go to,  'Green' representative (sort of like a sustainability officer) for the Union branch I belong to.

Current Job:

I am a lecturer at Stirling University! I mostly teach 3rd year students all about personality and individual differences (i.e. what makes us different and similar to each other). I also sit on lots of committees and do some research! My favourite bit is engaging with students and coming up with fun ideas for their final year dissertation topics (i.e. a big piece of reseach which takes all year, and they have to do in order to graduate).

Employer:

I'm employed by the University of Stirling, and work in the Psychology division.

My Interview

How would you describe yourself in 3 words?

From Faces to Climate-change - a Psychological journey

What did you want to be after you left school?

An actress

Were you ever in trouble at school?

No.. I was super afraid of authority!

If you weren't doing this job, what would you choose instead?

Probably a climate-change activist!

Who is your favourite singer or band?

I'm more into DJs.. Tiesto probably!

What's your favourite food?

Fajitas (with loads of guacamole)!

If you had 3 wishes for yourself what would they be? - be honest!

I wish I could be happy, healthy, and help solve the climate crisis!

Tell us a joke.

What do you call a wet bear? A drizzly bear.
---
---