Profile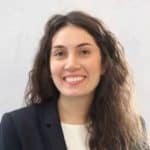 Federica Degno
About Me:

I'm Federica and I am originally from Italy, although have lived in the UK for almost a third of my life. I like walking, cycling, and cooking.

My Work:

I research how people read, and record participants' eye movements and brain potentials in my experiments.

My Typical Day:

I start my day by checking and replying to emails. Then, depending on the schedule of that day, I might have meetings with other colleagues or students, teach classes, be in the laboratory to collect some data, run analyses of my research data, write manuscripts for publication. I finish by making sure all deadlines for that day have been met, and checking what is the following day's schedule.

What I'd do with the prize money:

If I win the prize money for further STEM public engagement I would like to organise some events for young people to come and see the laboratories in my university and try some of the experiments out. I would then ask some of the young people if they agree to be video recorded, and if so, I would then create a video summarising the experience, also recording some interviews about what young people enjoyed the most. I would then use the video to show other young people what  is like to be in the university and in the research laboratories.

My CV

Qualifications:

BSc in Psychological Science and Techniques, University of Milano-Bicocca (Italy)

MSc in Clinical Psychology, Developmental Psychology and Neuropsychology, University of Milano-Bicocca (Italy)

PhD in Psychology, University of Southampton (UK)

My Interview

How would you describe yourself in 3 words?

organised friendly researcher

What did you want to be after you left school?

medical doctor

Were you ever in trouble at school?

not really

Who is your favourite singer or band?

Coldplay

What's your favourite food?

Baked pasta

If you had 3 wishes for yourself what would they be? - be honest!

1) healthy and happy life for me and my loved ones, 2) having the time to explore and enjoy the world, 3) learn how to grow vegetables

Tell us a joke.

Why did the scarecrow win an award? Because he was outstanding in his field.
---
---