Profile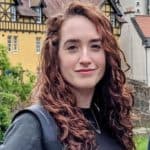 Rachael Hulme
About Me:

I'm a psychology lecturer at Heriot-Watt University in Edinburgh where I teach and do research on how we learn and understand language. I love cats 🐱 hiking ⛰️ veggie food 🌿 tea ☕ board games 🎲 and travelling ✈️!

My Work:

I'm a psychology lecturer at Heriot-Watt University in Edinburgh – I teach mainly cognitive psychology (which is about how we think – learning, memory, language, etc), and research methods (how we can ask the right questions and do studies to find out the answers!) I also do research focusing on my areas of interest – language learning, comprehension, and reading.

My Typical Day:

Sometimes I work from home, but most days I go to work at the university. I make packed breakfast and lunch to take with me (I'm too tired to eat first thing in the morning!) I get to work just before 9am, where I reply to emails from students and colleagues, then I'll prepare materials, teach classes, or do some work on my research. I catch up with colleagues over lunch, and head home around 5.30pm.

What I'd do with the prize money:

Am I allowed to spend it on cake?? Just kidding, I'd use it to organise an event to invite high school students (maybe some of you?!) to come and visit us at Heriot-Watt University to see what it's like and if you'd be interested in studying psychology too! …and hopefully we'd be able to provide cake 😉

My CV

Education:

Balfron High School, Stirlingshire (2001-2007)

University of Glasgow (2007-2012)

University of York (2013-2014)

University College London (2014-2018)

Qualifications:

8 Standard grades, 6 Highers, 2 Advanced Highers, MA Psychology and French, MSc Cognitive Neuroscience, PhD Experimental Psychology

Work History:

In order from first to last: babysitter, waiting and bar staff, English teacher in France, admin assistant, research assistant, psychology lab demonstrator, university admin officer, research fellow, lecturer.

Current Job:

Assistant Professor (Lecturer)

Employer:

My Interview

How would you describe yourself in 3 words?

language-loving psychology lecturer

What did you want to be after you left school?

Either Psychologist or Teacher, I didn't know I'd do both together!

Were you ever in trouble at school?

No :)

If you weren't doing this job, what would you choose instead?

Maybe Data Scientist, I'm learning to code and it's kinda fun!

Who is your favourite singer or band?

I'm into a real mix of Punk Rock, Pop, and Trad music so it's too hard to pick just one!

What's your favourite food?

Homemade bread, mmm!

If you had 3 wishes for yourself what would they be? - be honest!

1-Get a pet cat. 2-Be fluent in every language. 3-Ability to teleport anywhere in the world!

Tell us a joke.

I've decided to sell my Hoover… well, it was just collecting dust!
---
---