Profile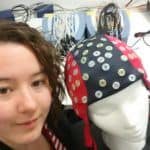 Steph Acaster
Today I'm thinking about how we construct our personal spaces and how they reflect aspects of identity.
About Me:

I live in Yorkshire and work mostly from home, teaching and researching in Psychology. I play violin in a big orchestra. 🎵 I love hedgehogs, dogs, and learning new things. 📖 🏳️‍🌈

My pronouns are:

She/her or They/them

My Work:

I study perception (how people understand what they see and hear) and individual differences (how personality traits interact with our lives/experiences). In the past, also measured brainwaves to help in this quest!

Read more

My research interests include cognitive and biological psychology, as well as personality and individual differences. Currently I am exploring the trait "sensation-seeking" which I think can explain a lot of the differences between people. I'm also interested in statistics/maths-anxiety, and the traits that influence how people interact online. Most of these topics involve research using psychometric questionnaires or surveys. "Psychometrics" is an area of psychology which aims to find ways to measure things that we might not be able to directly observe (like personality or intelligence for example).

I also teach biology colouring classes, because I believe that understanding biology is very helpful for psychology students!

Back in the lab, in my PhD work, I investigated how surfaces that are the same colour can look different depending on where they are placed or what colour surrounds them.

To do this, I recorded people's responses (e.g. do they think that the grey is darker or lighter than the other grey?) and also their electrical brain activity (called 'EEG'). This is done by getting people to wear a special cap which has lots of tiny electrodes to record the signals being produced by the brain.

While the equipment is recording, we showed different images on a computer screen. The timing of the images is stamped onto the EEG recording, so that we can later match up each part of the brain activity recording to what the person was seeing at the time.

The analysis can be quite a long process, as we filter the data and make sure there are no "artefacts" (e.g. if the person has blinked, this will cause a disturbance on the recording) before we get the "waves" that we can actually compare.

This research can tell us more about how people perceive different colours and brightnesses. This can be applied for example, when your satnav or phone screen brightness changes when the light outside goes from day to night – it reduces the contrast, making it easier to see clearly!

My Typical Day:

I like cereal or bacon for breakfast, then I try to fit in some violin practice before my tutorials or meetings in the mornings. I usually have a walk at lunch time, then later in the afternoon, focus on reading, researching, or developing questionnaires and surveys for research.

What I'd do with the prize money:

I'd like to run an event that anyone can get involved in, to give students a chance to present projects that they've worked on to a wider audience, and perhaps an open essay competition with some great psychology related prizes!

My CV

Education:

I went to a secondary school in East Yorkshire (South Hunsley) and stayed through to sixth form. Once I completed A-levels, I went to the University of Birmingham for 3 years to complete my undergraduate degree, before moving to Sheffield Hallam to start my PhD.

Qualifications:

GCSEs (2009):
Maths, Biology, Chemistry, Physics, English Language, French, Graphics, Art (A*)
English Literature, Religious Studies (A)

AS-levels:
Chemistry (A) and Critical Thinking (B)
Extended Project Qualification investigating treatments of Panic Disorder

A-levels (2011):
Biology (A*)
Psychology, Maths, General Studies (B – 0.5% away from the boundary for an A in Psychology, ouch!)

BSc Psychology (2014) – first class

PhD Psychology (2019)

From 2018 onwards, I also completed ABRSM Grades 5 and 8 in Music Theory, and Grades 5, 7, and 8 in Violin.

In 2023, I have completed my Fellowship of the Higher Education Academy (FHEA) and sat my Music Theory Diploma exam.

Work History:

Volunteer (Yorkshire Waterways Museum) – a Saturday role with lots of variation in jobs such as reception, cafe, tidying the museum.

Assistant Librarian – a summer job after GCSEs sorting and setting up a school library.

Research Assistant (University of Birmingham) – collecting data from computer tasks and focus groups, analysing data.

Affiliate (Graduate Recruitment Bureau) – promotion and getting people to sign up to a graduate careers site

Demonstrator in Psychology (Sheffield Hallam) – assisting and teaching in statistics classes and other undergraduate seminars, as well as practical classes on EEG equipment.

Subject-Matter Expert (Pearson Education) – writing revision materials to go with online Psychology textbooks.

Resource Writer – creating research-based curriculum activities for GCSE Psychology students.

Band Secretary – planning rehearsals and concerts.

Exam Invigilator – one of those not-a-teacher staff members who supervise your GCSE/A-level exams!

My Interview

What did you want to be after you left school?

I wanted to do something relating to Psychology, but wasn't sure of a specific job role.

Were you ever in trouble at school?

The last thing I was told off for was skipping dodgeball - I'd still rather be in the library than getting hit with dodgeballs!

Who is your favourite singer or band?

Vitamin String Quartet

What's your favourite food?

Cheesy bacon pasta bake

If you had 3 wishes for yourself what would they be? - be honest!

1) I would wish to be more confident/less anxious in certain situations. 2) I would like to be more involved in work that mixes my interests in psychology and music. 3) Can I wish for extra wishes to be used at a sensible and appropriate time?

Tell us a joke.

A receptionist says: "Doctor, there's a patient here who thinks he's invisible." The doctor replies: "Tell him I can't see him right now."
---
---